Sheehy Ford Ashland – General Manager Paul Bavely, 2018
ACES Christmas Luncheons – 2018
(ACES' Senior Rides Drivers, Volunteers at ACES, One of our Elves)
Women of Faith, First Baptist Church – 2018
(The women provided much needed toiletry and personal items)
Duncan Memorial UMC Youth Scavenger Hunt – 2018
Lebanon UMC Youth "TOTSOCE" – 2018
Sheehy Ford – 2018
Mike Wright, General Sales Manager of Sheehy Ford in Ashland, is shown presenting a check to us.
We are so grateful to have such a supportive community.
ACES Volunteer
Hannah, a R-MC student, is hard at work at/for ACES. After defrosting one of our freezers, she went shopping with another volunteer.
Service Machine – 2017
Each year, around Christmas, Service Machine Co. delivers a "ton" of food and other items to ACES.
This year, the company matched the employees' donations.
Many, many thanks to Service Machine Company.
Christmas Luncheon – 2017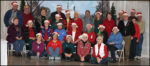 Scavenger Hunt – Duncan Memorial UMC
The youth at Duncan Memorial UMC collected toiletry items for ACES – over 600 items in one evening!
TOTSOCE
(Trick or Treat So Others Can Eat)
The youth group at Lebanon UMC collected 80 bags of food for ACES
2017 Scouting for Food
141 bags of food collected by Ashland area Boy Scouts and given to ACES
Atlee High School Freshman Class Student Council
At the recent Atlee/Patrick Henry High School football game attendees donated food items for our pantry. We are so grateful to the Atlee High School Freshman Class Student Council for all they did to make it such a successful food drive! Thanks to everyone involved!
Adam Clark
Adam Clark, 12 years old, provided all of these toiletry items! He used money saved from his allowance to purchase these much needed necessities.
It is so heartwarming to see our young people become involved and have the desire to help others!
A big thank you, Adam!
Slash Christian Church Food Drive
Members of Slash Christian Church collected over 500 food and toiletry items for ACES during the month of June.
Thank you!
Ginny & Thomas Ray
Ginny and Thomas raised over $50 for ACES by setting up a stand and selling lemonade.
Thank you, Ginny & Thomas!
Grace Clark
Grace collected packages of new children's underwear and donated them to ACES  as her project for her Silver Award in the Girl Scout program.
We are very grateful for all that she did to help us help those in need.
"10-4, 10,000"
Another 600+ food items collected by Boy Scout Troop 793 in June 2017 for our food pantry.
Service Machine Company & Sheehy Ford, Ashland
Employees of these 2 Ashland businesses delivered food for our pantry on December 21. We are so grateful!
2016 ACES Christmas Luncheon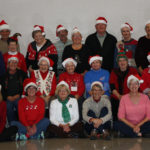 Turkey Trot 2016
ACES received a generous financial donation, coats and food from the recent Turkey Trot!
Thank you to everyone who gave!
Independence Christian Church Food Drive 2016
Members of Independence Christian Church brought, literally, a truckload of food for our pantry. Thank you!
Service Machine Food Drive 2016
     These hard-working men represent Service Machine Company.
They, too, brought a truckload of food for our pantry.
Thank you so much!
Ashland-Hanover Triad
Members of the Hanover County Sheriff's office & the Ashland Police Department collected food for our organization. Many thanks to them, for giving their time to collect the food & to those of you who generously gave to make a difference in the lives of others.
10-4, 10,000 does it again!
The Chickahominy Volunteer Fire Station collected 1,084 food items for our pantry.
They were kind enough to help get everything into boxes and carts. Thanks to everyone involved!
Scouting for Food – 2016
Ashland area Cub Scouts and Boy Scouts collected 233 bags of food for ACES.
One of the troops was kind enough to help stock our shelves and put everything away. We are blessed! Thank you!
Women of Faith, 1st Baptist Church, Ashland
The group of 7 women collected toiletry items and donated them to us. We are greatly appreciative.
Shiloh Baptist Church
ACES was a participant in their Community Day on October 8, 2016.
The day was filled with wonderful music, games, food and line dancing.
Notice how the line dancing crowd thinned out in the 3 pictures on the right.
The gentleman leading the group danced for ONE HOUR. What a fun day it was!
We Are Unique, September 2016
From their brochure:
The Unique Club is comprised of a small group of intellectually challenged adults and peer buddies from Hanover County. The club provides a unique opportunity for our members to use their individual talents, forge lasting friendships and achieve community support in their volunteering endeavors. The group won the 2014 Spirit Team Volunteerism Award for Hanover County which honored them for their dedicated efforts of giving back to their community. The club repackages large quantities of dried food and makes up personal hygiene bags for local food banks. The group also makes Valentines for Veterans and volunteers in Hanover ARC's fundraising activities, volunteered on Global Youth Day, collected blankets for Hanover Safe Place, slippers for the Fuzzy Slipper Foundation, shoes for Megsmiles shoe drive and supplied and packed shoe boxes for Operation Christmas Shoe box program and collected used clothing for a local drive.
The two young ladies pictured here are Lisa and Morgan. They packaged brown and white rice and beans for our food pantry, came to ACES and stocked our shelves with the bags. We are blessed to be partnering with such a caring group who want to give back to their community. See all that they are doing on their Facebook page: weareuniqueclub.
Moments of Hope Outreach, June 2016
These wonderful folks served a continental breakfast of Krispy Kreme donuts, muffins, fruit, orange juice and coffee to those who came to ACES.
"10-4, 10,000 – June, 2016
"10-4, 10,000" – May, 2016
BB&T Employees and ACES' volunteers
BB&T employees went shopping and filled 2 grocery carts full of food and other needed items for ACES.
Neighbors Helping Neighbors
                             Reverend Donald Richardson from Slash Christian Church brought a truck full of food items for our pantry and the Women of Faith Sunday School Class at  First Baptist Church donated a laundry basket full of new underwear and socks.
Two of ACES Best Supporters
These young men collected food and clothing for us.
The youngest saved his money ($40.85!) and gave it to ACES so we can help others.
We are so very grateful to them – and to their parents!
Restoration Church volunteers
These 3 young men are not only handsome, they are quite good at cleaning!
They are from Restoration Church and volunteered with us on our  Saturday opening in April. We put them to work!
ACES is sparkling….Thanks guys!
10-4, "10,000!"
Hanover Fire & EMS Station 10 has kicked off a 10 month "10-4, 10,000!" food drive that will benefit ACES. We received the 1st "installment" on February 5, 2016. Station 10 is committed to raising 10,000 food items to help our neighbors in need. They will be hosting monthly collection drives at the Walmart Neighborhood Market, 9714 Sliding Hill Road and the Food Lion, 9541 King's Charter Drive. If you are interested in hosting a collection box or joining them in a drive of your own, please contact Jim Hurtubise at 804-317-4189.
Service Machine
Service Machine, a local business, presented us with a HUGE amount of food for our pantry.
Thank you to all of the employees who gave.
ACES Christmas Luncheon, 2015
Many thanks to Ashland Christian Church for allowing us to use their Fellowship Hall in which to hold our luncheon and to Diane S. who photographed the event.
Girl Scout Troop 5286
The girls, who meet at New Hanover Presbyterian Church, are working on their Philanthropy badge and asked an ACES representative to speak. Afterwards, they filled my car with a TON of donations, including 9 boxes of diapers!
Food Lion – Ashland
42 boxes of prepackaged food, purchased by the customers of Food Lion, were given to ACES.
Curves of Ashland
All of the fixings for 30 Thanksgiving dinners were donated to ACES by the clients of Curves of Ashland. Thank you ladies!
ACES Turns 65!
We celebrated our 65th anniversary in November, 2015 with lots of good food!
ACES Bicycle Garden
Have you seen the bicycle gardens around Ashland? There are many beautiful and creative exhibits.
We felt left out, but then we were given a bicycle. Simple, but elegant, wouldn't you say?
First Baptist Church, Ashland, VA
1st Baptist Church in Ashland partnered with Outreach, Inc. on October 24 and packaged meals for those in need in Hanover County. Their goal was to package 20,000 meals and give the meals to the local food banks.
Thank you to the guys and gals who participated in this project. Your donation will feed a lot of folks.
Cross Brothers Grocery
Cross Brothers Grocery was the background for a scene in an upcoming movie about the Loving couple from Caroline County. The store was changed to appear as it would have in the 1950s. That included the food. Labels from that era were placed on new cans of food. After the shoot, the food was donated to ACES. The comical part of this is that the original labels were taken off of the cans. We had to "warn" those that received these cans that they were not necessarily getting what the cans showed they were. One can of "peas" was actually "pinto beans." Thanks so much to the folks at Cross Brothers for their donation to us!
Ashland Police Foundation & Ashland Theater
Just one of the two Ashland Police Department's vehicles that were parked outside the Ashland Theater on October 16. Moviegoers were asked to bring non-perishable food items as their admission to the movie "Courageous." The donated food was shared between ACES and Faith, Hope and Victory food pantries. Thank you to the Ashland Police Foundation, the Ashland Theater and to our community!
Scouting for Food – 2015
A HUGE thank you to the Ashland and Elmont Communities who provided 187 bags of food for the ACES pantry. We are so appreciative of Scout Troops 700 and 793 and Packs 718 and 704. This is the 30th year the scouts have participated in Scouting for Food.
 St. James the Less Episcopal Church
The youth "competed" in their annual Scavenger Hunt for ACES.
They broke up into 3 teams who gathered canned goods  and other non-perishable items for our food pantry.
Hanover-Ashland Triad Food Drive
 Ashland Police Officer Chip Watts and ACES volunteer Jean Vrabel
Kersey Creek Elementary School Garden, July, 2015
Clients at ACES have been able to receive fresh vegetables (tomatoes, cucumbers, string beans, squash) thanks to the folks at Kersey Creek Elementary School.
                                                              Old School Street Cruisers   – June 13, 2015                                                                                                 
Eddie Hinten, the gentleman behind the Old School Street Cruisers fundraiser for ACES,
presented us with a nice check today!
It will help a lot of folks that use our services. Thank you, Mr. Hinten!
And, thank you to our volunteers that braved the heat today and represented ACES well.
We are blessed by many, wonderful volunteers who have a desire to help others
Mila Rhodes – Girl Scout Bronze Award
The lovely young lady is a member of Girl Scout Troop 3737 that meets at Cool Springs Baptist Church. She and the other members of her troop , to obtain their Bronze Award, came up with the idea of having different stations that would be shared with Brownies and other Girl Scouts. Their theme: Respecting Ourselves and Others. Mila chose ACES to be the focus of her station. She collected items we needed and created, with the help of those in attendance, 2 posters – 1 thanking the ACES volunteers for the assistance they give the community and the 2nd  – to be a blessing to those ACES helps.
Thank you Mila!
Zachary Boyd – Eagle Scout Project
This amazing young man receiving his Eagle Scout award is Zachary Boyd. He is with Troop 521 from Cool Spring Baptist and is 13 years old. He chose ACES as his project and collected almost 900 items of food for us.
We are grateful to Zachary and the scouts that assisted him with his project.
Global Youth Service Day, 2015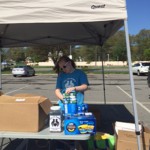 Katie Goodman, hard at work, collecting food for ACES as part of her Help the Hungry 4-H project. Thanks Katie!
Birthday Celebration
April 10, 2015
We celebrated the birthdays of our Executive Director, Al Dickerson, who turned 90, and Gloria Brown, a longtime volunteer. Wonderful time together; great fellowship.
Restoration Church Youth Group Food Drive
March 7, 2015
Disciple Now (DNow) is an annual retreat for middle and high school youth sponsored by Restoration Church. This year's retreat was held over the weekend of March 6-8, 2015, with almost 300 youth from the area attending. The focus of Saturday afternoon was on service and one of the big projects was to collect food from various subdivisions for donation to ACES. Students watched a video explaining the problem of hunger in Virginia and what ACES' purpose is in the community. In addition to the youth collections, members of the congregation were invited to bring food items for the Sunday morning service that closed out the retreat. Several cars full of food and other items were delivered to ACES the Monday morning following the retreat. Many thanks to Sandy for contacting us, to Sue and her daughter, Claire, for creating the video about ACES, to the 300 youth and their leaders who collected a TON of food and to the entire church for giving food to help our neighbors in need. We are indeed blessed by all of your efforts.
Souper Bowl of Caring
Kenwood United Methodist Church Youth Group
The youth at Kenwood UMC sponsored a Souper Bowl of Caring even in January and collected money to purchase food for ACES.
They did ALL of the shopping! And…once they got to ACES, they boxed all of the like items together so our food pantry workers would have less work.
You guys ROCK! Thank you, once again, for supporting our organization.
Girl Scout Thinking Day – 2015
Scout Troop 609 from St. Ann's Catholic Church were part of the Girl Scout Thinking Day 2015 held at the Brock Center today. This year's theme is "We can create Peace Through Partnership." Each scout troop involved chose an organization in the community on which to focus. Troop 609 chose ACES. They created a poster and set up a display to show what ACES does and how it helps our community. A "swap" (the little brown bag in the middle picture with the ACES logo) was given to each scout in attendance – the bag is a symbol for collecting food for ACES. The scouts put a lot of thought and effort into their project and we are extremely proud of them.
Hana, Bernie and Tanner
These children collected toiletry items, socks, gloves and snacks to give to people we serve.
We are very grateful for their thoughtfulness, their generosity and their willingness to help others.
2014 Christmas Board Meeting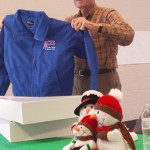 Our president for the past 17 years, Al Dickerson, was honored at our meeting and given a special gift.
Al will continue to be involved with ACES in the role of Executive Director.
 Foley Material Handling Food Drive, 2014
We continue to be blessed by a supportive community.
The employees of Foley Material Handling collected 800 food items for our neighbors in need.
Independence Christian Church
These lovely people brought ACES a truckload of food collected my members of Independence Christian Church.
What a blessing!
Duncan Memorial UMC Youth Group
Scavenger Hunt – Food for ACES
On November 2, 2014, the youth at Duncan Memorial UMC split up into teams and went on a scavenger hunt for food for ACES. After their return to the church, the teams placed their food onto tables and competed for prizes. Some examples of the competition were to see which team could build the tallest tower with cans of tuna fish they had received;  if the team had a can of corn they competed by trying to tell the "corniest" joke; the team with the most ounces of applesauce would win a prize.
If any church or group would like more information about Duncan Memorial's Scavenger Hunt, contact Kendra Swager at 804-798-7224. Fifty-seven bags of food were collected. From the pictures, supplied by Jenn Inge for our website, it appears they had a lot of fun. Thanks everyone!
Scouting for Food, 2014
Scouts from Troops 700, 704, 718 and 793 collected 184 bags of food for ACES during their annual Scouting for Food Drive. The food is much appreciated.
ACES also thanks our community for supporting this effort each year.
Renovation of our Food Pantry – October, 2014
Denton and Laura Baker and Jacque Hoskin hard at work renovating our food pantry.
The renovation allows for the storage of more food and better accessibility.
Thanks guys!
Grant from the Sodexo Foundation
          Sodexo Foundation gave ACES a $1000 grant earmarked for our food pantry in honor of Katie Goodman. Katie was selected as a Stephen J. Brady STOP Hunger Regional Honoree. The honor recognizes dedicated students from across the United States who are making a difference by fighting hunger in their communities. For the last 4 years Katie has been diligent in her efforts to fight hunger in her community. She has, and is, making a huge difference.
Hanover-Ashland Triad 2014
This was the Hanover-Ashland Triad's 3rd year of partnering with Virginia's AARP Food Drive known as "Drive to Stop Hunger." Citizens dropped off food at all EVB locations in Hanover, the Hanover Sheriff's Office and the Ashland Police Department. County employees that attended their United Way meetings were asked to bring food for the local food banks. This year the Triad partnered with the two Kroger Grocery Stores in Hanover which allowed them to collect food at their stores on September 20 for 4 hours. The 2500 pounds of food collected was distributed to the three local food banks (ACES, MCEF and WHEAT).  Jim McLaughlin of the Sheriff's Department said: "We would like to thank the wonderful citizens of Hanover County for being so giving to the less fortunate and making our food drive so successful." ACES is extremely grateful to everyone involved in helping with, and in giving to, this food drive.
 LebCamp 2014
Youth from Lebanon UMC, as a summer project, cleaned the ACES building, inside and out.
Great bunch of young people.
Old School Street Cruisers Car Show 
June 14, 2014
Held on Luck Chevrolet's parking lot, the Old School Street Cruisers had
a beautiful day to showcase some "cool" cars. Frankie Payne, an ACES volunteer, is pictured.
ACES was one of the beneficiaries of the proceeds received from the show.
Hanover County's  Spirit of Volunteerism Celebration  
May 6, 2014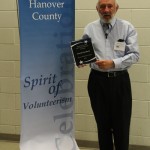 Dave Goodwin, a volunteer at ACES, won the Spirit of Dedication award for 2014.
Dave not only volunteers at ACES, he volunteers with Habitat for Humanity and the Western Hanover Wood Ministry,
he assists with the youth programs at Duncan Memorial UMC and he has served on mission teams in Mississippi and Costa Rica
HomeLife Access Realty – WHAN Radio Food & Clothing  Drive 
May 3, 2014
Pictured is Jerome the Gnome and Donna from HomeLife Access Realty. Missing is Judy from WHAN Radio.
Kenwood UMC Youth Group  
March 1, 2014
The youth from Kenwood UMC collected food items and money during their Souper Bowl of Caring Sunday in February
With the donated money, they purchased more food.
They supplied ACES with 579 items of food and even stocked our shelves.
Way to go, guys and gals! Thank you!
Duncan Memorial UMC
Reception
Margie and Al Dickerson
January 19, 2014

Christmas luncheon and Board meeting
December, 2013
 Fundraising Events
Ashland Coffee and Tea held their 3rd Ploc Madness Weekend in March 2013 which benefitted ACES.
In the picture below, Truman Parmele, owner of Ashland Coffee and Tea, presents a check to ACES President, Al Dickerson.
John Shinholser, of the McShin Foundation (www.mcshinfoundation.org),  and ACES volunteers shred barbecue for an ACES fundraiser that was held April 2013.
Once or twice a year ACES holds a yard sale to raise funds. The one pictured is in October 2012 and was held on the Diamond Plaza in Ashland.
Ashcake Woman's Club
The 10th anniversary of the Harvest Run, sponsored by the Ashcake Woman's Club, was held in October. The money raised was shared between 6 local non-profits. They presented checks to each of us in December.
Food Events
Katie Goodman received Virginia's "Top Middle Level Volunteer" award in the 2013 Prudential Spirit of Community for her 4-H Project – Help the Hungry. Katie is shown here with her award, which was presented at the Board of Supervisor's meeting in Hanover, VA in March 2013. The 3rd picture is of Katie with her project  that she set up at the Ashland Feed Store. Katie has held "Fill the Truck" food drives throughout our county which benefited not only ACES but WHEAT and MCEF – our sister non-profit organizations.
Duncan Memorial United Methodist Church sponsored a sweet potato drop in May 2013. 45,000 pounds of sweet potatoes were bagged that day!
In April 2013, St. Peter's United Methodist Church sponsored a potato drop.
Troops 700 and 704 and Den Pack 718 brought ACES 185 bags of food in November 2013. Thanks guys!
Just before Thanksgiving Brownie Scout Troop 609 delivered quite a few bags of groceries, took a tour of ACES and even helped stock our shelves. Good job, ladies!
Mt. Olympus Berry Farm in Ruther Glen, VA has graciously added ACES to their list of non-profits to whom they give fresh fruits and vegetables.
Other Events
The youth from Lebanon UMC, each year during the summer months, does a mission project which includes ACES. One year they painted our floors; another year they moved clothes racks and cleaned our carpets. In 2013 they sanded the outside doors and painted the trim around those doors.
Holiday Parade
Al Dickerson, president of ACES, and Frank Bentley were the Grand Marshals of the Ashland Holiday Parade, 2013